Joined

Nov 1, 2018
Messages

422
Reaction score

155
Location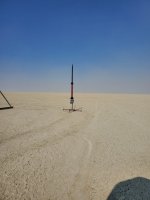 Some friends and I decided to take what we'd learned and developed in a few small projects on the forum here and apply them to a single project. We call this rocket Hephaestus after the god of craft. Goal of this project was to get as lightweight of an airframe as we felt safe with that could take the forces of a two stage project. We ended up with a total on pad weight of 20.2 lbs with everything ready to go. Final altitude results from the quantum are 49,899 ft and Mach 2.5. Sustainer ignited at 15,000 ft approximately after taking 5 seconds to come up to pressure. We got lucky that she was still stable and upwards when second stage finally ignited and will be addressing this in our future projects.
We'll be happy to answer questions about our projects and honestly this was our very first two stage as well as our first group project and our first high altitude attempt above 15k so lots of new stuff to go right and we are honestly as surprised as some of you.
Epoxy work: A technique we used on all epoxy operations was to utilize a mixing nozzle that would mix the epoxy without introducing air into the epoxy and allowed us to place the epoxy exactly where we wanted it. All joints were sanded with 60 grit after cleaning with soap and water followed by alcohol and then acetone, sanding then acetone again.
Testing:We conducted deployment testing, Igniter testing, line cutter testing, and altimeter testing for this flight all video's can be found at this link if I did it right.https://youtu.be/nzJRIoLYarg this goes to the vacuum test and you should be able to find the rest on the same channel. I posted all the testing at once.
Booster summary: Booster was built using fiberglass thinwall tubing from madcow rocketry with the 1/8 thick fiberglass fins surface mounted using panel bonding epoxy. Fin dimensions were established in simulations before hand and cut with a bias towards making them larger during production. We did all our composites work by hand so sanding into uniformity resulted in our fins being slightly oversized from planned which was then used to update the sims to new dimensions. A short 1" long section had two carbon fiber bulkheads of 0.08 thickness epoxied onto either side before being bonded in to act as our recovery retention and motor retention. Kevlar harness was looped through a pair of holes in this bulkhead eliminating the need for any steel hardware of any kind. A small thinly headed bolt was fabricated from 7 thousand series aluminum for motor retention and loctited in place. Recovery was a single 36" nylon parachute from a past project of unknown make. We tried to fit a 40" from rocketman however space was limited so the backup option was utilized.
Interstage: Our inter stage consisted of piece of carbon 54mm airframe with three equally spaced centering rings set into a 8" long section of 3" heavy wall coupler tubing from wildman. The 54mm airframe section stuck out the front so what we did to add an Ogive shape to the interstage was to create a stack of balsa centering rings of various sizes that we glued onto the front of the interstage. This was then profiled and sanded in on the lathe to give us our desired finish. We then coated the balsa in a coat of epoxy to help seal it and add rigidity. This was again sanded smooth after curing. Interstage had a single 3" long area in which to mount electronics which we filled with a pair of eggtimer quarks and pullpins to match. Unfortunetly we made the decision to pop the parachute at apogee and not have any dual deploy arrangement so we refrained from mounting anything to the main channel on the outputs which if we had reread the instructions would have been reminded this is a bad idea. Because of my misunderstanding of the beeps coming from the quark we lost the booster as I spotted it coming in ballistic after seperation.
Sustainer summary: In order to use the motor casing as the coupling component on this project we removed the thrust ring from the motor and plugged the forward ejection cup with a threaded insert epoxied in place. This allowed us to mount the quantum we used directly to the front of the motor making assembly of the motor ignition system much simpler. An aluminum custom bolt went through the electronics and various bulkheads into the motor directly, functioning as motor retention, thrust plate, bulkhead, recovery harness mount, and indexer for pullpins. Entire rockets steel can be measured in the steel contained within the pullpin switchs, setscrews, and eggtimer products as all recovery harness were tied into the rocket. The wiring for the igniter is copper wire run down the length of the motor with ends soldered on to allow us to connect to our electronics. We did all soldering on a standin tube as I am far to nervous to go soldering on a live motor. Capton tape was placed over the copper in a layered pattern to protect the copper from abrasion and to improve the fit of the motor to the interstage. We basically tuned in the fit using capton tape. The copper foil leads had a redundant pair run down the tube in the event abrasion caused a break in the foil. This turned out to be a smart decision as we did have minor damage to the foil after inspection post flight.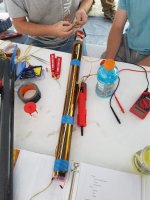 Recovery plan: One of our students had a watch that has gps function built in that we utilized as a point of reference. A second method was physical mapping of the playa with concentric rings around the gps coordinates given for the launch. This combined with a visual heading of the flight was used to confirm data from the tracker. Our tracker data was input into a phone, a watch, and confirmed with our map before heading out which resulted in a very quick recovery.
Electronics summary: We decided to use the Lat and Lon spit out by the receiver unit in our own program and handhelds. This resulted in us driving right up to the rocket out on the playa. Eggtimer products being so cheap have eliminated any stress from the loss of the booster. A unique attribute we discovered while trying to diagnose our gps was that we couldn't get a solid lock with the gps mounted in our 3D printed sled. After some research we discovered that plastic can carry an electrostatic charge along it's surface and printed materials have been found to detune the gps's patch antenna when in extremely close proximity. The value we found was 1-4mm away from the antenna. We decided to flip our tracker over to get it away from the print and voila it worked. So if your having tracker troubles in a printed sled try moving the antenna further away from the print.
Faults: Lost booster due to misunderstanding on my part. Eggtimer quantum data filled up at 62 seconds preventing us from getting descent data. Quarks aren't spitting out an altitude so we only have quantum data to go off of. recovery was difficult as I'm pretty certain I butchered my receiver unit during assembly a couple years back since it gives no direction, heading data worthy of note.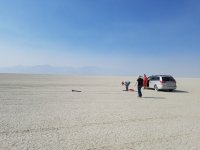 Landing sight of sustainer 3.3 miles away I believe
Please ask any questions and while we took many pictures of the launch and recovery I'm short on assembly pictures as I'm not one to stop working for pictures. So everything we have is while we worked when those kind enough to take pictures did so and gave us copies.
Our next goal is to build a two stage rocket of the exact same form factor limiting ourselves to an M impulse total between both motors in an attempt to break 100,000 feet altitude. We've started on drawings for the airframe and discussions about propellant selection and can't wait to start some mixing.