Well-Known Member
TRF Supporter
Joined

Jun 22, 2019
Messages

148
Reaction score

136
Location
Recently I've noticed an issue with my Kevlar harness getting completely tangles up. I mean it's so bad I have to to take it off the quick links and de-tangle it. These are typically 2.3, 2.6 or 3" rockets I'm flying. In some cases the tangles get so bad that it keeps the chute from opening fully and the rocket lands in a flat spin. Typical apogee is between 4 and 6k so the rocket as some time to fall before the main opens.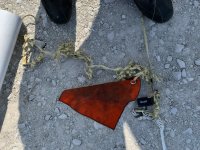 To combat these I've taken to putting swivels on each quick link. MY working theory was that the booster spins during the decent and causes the harness to get knotted up, but the swivels don't seem to isolate the booster from the harness enough. All that's done is get the swivel tangled up in the harness. If you look in the photo I posted you might be able to make out a swivel tangled up in there.... :|
What can I do to reduce these knots?
~Dave~