Joined

Jun 29, 2015
Messages

129
Reaction score

0
In my daydreaming about how in the heck I was going to line the fins up correctly on my Photon Probe I came up with my new tool. Well it's new to me, if anyone knows of something similar please let me know.
I went to the lab with three designs in mind. The first two were disasters and hard to use but the third (which I didn't start off with much hope for) turned out to be really simple to use and very effective. So I call these the 'Butterfly Fin Guides'.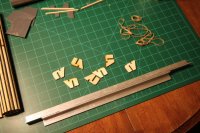 You need to use your own aluminum angles.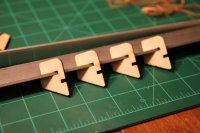 I cut these out of 1/8 because we were having issues cutting 1/4. Our laser in the lab needs to be replaced. So I grouped them into 4 sets of two. I like them this way and I could easily glue them together if I ever wanted to.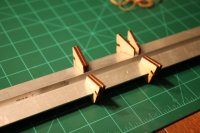 You secure the Buttery Fly Guides and the aluminum angle stock all together with rubber bands.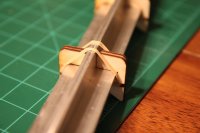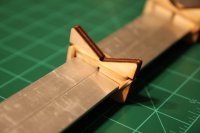 I don't have a good shot of it, but I used some scrap balsa in between the two angles to hold them apart in parallel. And an other rubber band at the aft end of the angles to provide a little bit of 'pinch' to hold onto the fins. The fins should fit in between the angles with a little friction. If they don't then just a little bit of paper will provide a great shim until they fit just right. I dry fit the fins with the guide in place on the body tube to make sure that they are all going to glue down in the right position. Then remove the whole unit, apply glue and then put back into place. An other trick is that you can look in between the angle stock to sight up the fin alignment marks.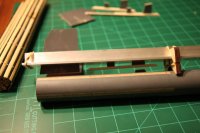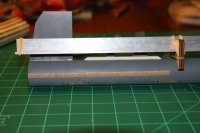 To make space for more fins I used a rollup table mat to hold it in place over the edge of the table.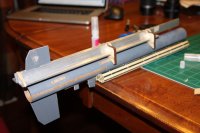 Once you have got the guide and fins lined up just right you can apply more rubber bands around the body tube on the Butterfly Fins. This then frees up your hands to fine tune the alignment or anything else. It also means that when your daughter knocks it over coming over to have her breakfast and help daddy write this post, then it isn't a total disaster.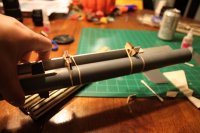 Ah Eureka; That rolled up matt was totally unnecessary. Just flip the whole thing onto it's back and it sits on the edge of the table no problem.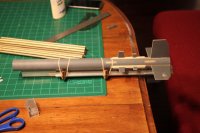 Ok - Since you have all made it this far and are still reading, I will send you some of these for Free! (Limited Supply, first come first served) Just PM me and I'll make arrangements to send some to you in the mail; totally for free. I'll just ask that you use them and provide me some feedback. I'll put more details in the PM exchange to make shipping arrangements.
I'm going to release the drawings, patterns, and files that can be used for laser cutting under Open Source/Attribution/Copy Left licenses but I can't do that here because the Terms of Service are in conflict with the licenses that I will use - but once I put up the website they'll be available.
I'm really pleased with how this has turned out. There was a learning curve while I got used to it, but that abuse was taken out on the Partizon and Big Daddy that are on the bench too.