Started to watch a train wreck last night.
After about ten minutes got disgusted, turned the TV off and started building.
Java (Fliskits Espresso upscale):
Cut the fins, slotted the cup, ,er, fin can and glued the fins and added internal fillets.
Assembled and attached the pop pod motor mount.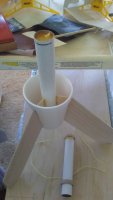 Full stack dry fitted next to the Espresso clone(ish).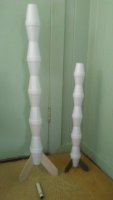 Just need to attach the rear thrust ring and parachute to the pop mount and fillet the fins and launch lug for the Java. Oh, and glue it all together.
Also need to make the pop motor mount and streamer for the Espresso.
Almost done.
Mama Bear and Baby Bear to my Decaffeinator.
Also did a couple of quick builds:
Leading Edge Li'l Devil:
Just need to add fillets and fill/sand/primer/paint/decal.
My favorite part.
Going to fly the bleep out of this one.
LOC Viper III: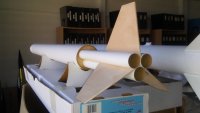 Fins attached last night.
Fillets to be done later today or tonight.
Laters, gators.