Joined

Jan 30, 2021
Messages

209
Reaction score

179
I see many people pay good money and spend hours and even days to build some of these rockets and I'm like, "You knew it would be that ugly before you started!" This is all a matter of opinion, of course, but where better to share an opinion than on the internet!
Here are some of my least favorite rocket features:
Dull, rounded off nose cones.
Rectangular fins, especially if they come off at a 45 degree angle (looks like a child's drawing to me).
Short, stubby rockets.
Split fins (unless part of a scale model kit).
Lame paint jobs (especially neon pink ones).
Rockets designed to be under-powered so they fly low and slow.
How about you? What leaves you shaking your head when you see it? Again, not talking about construction techniques or anything, just design and finish. I'm curious how many posts it will take before someone describes what they hate most and it's my preferences!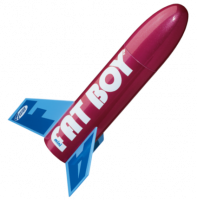 Just... no.