Hello folks!
My father and I are starting the design and production of a rocket engine following this design guide ( HOW to DESIGN, BUILD and TEST SMALL LIQUID-FUEL ROCKET ENGINES - ISBN: 9600-1980-4) and we have some doubts about the design that maybe could be answered with your help.
The rocket engine is a model that uses petrol and oxygen. The oxygen is feed from a pressurized vessel to the combustion chamber and the petrol from another pressurized one. The thing is that in the design nitrogen is used to pressurize the fuel tank, but we do not see why simply compressed air wouldn´t make it.
Using this engine scheme, would it be possible to use compressed air instead nitrogen to pressurize the fuel tank( 4 )?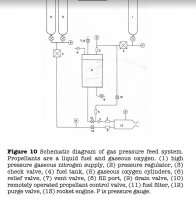 Thanks in advance for any help!