NAR 86151 L1 - 2006, L2 - 2007, L3 - 2008
Joined

Jul 24, 2018
Messages

75
Reaction score

9
Hi All - years ago the Delorie online shroud calculator worked like a champ on the Windows computers I use at home and work. I've tried to do some shrouds today with it and the New Century Rocketry web version and the pdf / png results are showing up across two pages. In other words, the resulting graphic is not justifying itself to the bottom of the resulting page to be printed but rather is centered.
What gives?
Are there browser settings I can change to fix this issue?
Links below are to the two sites I mention, and screen shots from the Delorie site for a shroud 1.124" top diameter, 1.352" bottom diameter and 1.32298" long. Such a shroud should easily fit the 8x10" output page.
http://www.delorie.com/rockets/transitions.html
http://rocketry.newcenturycomputers.net/shroudcalc.html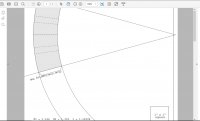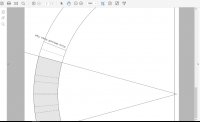 Any ideas will be most welcome.
Thanks Moe
Last edited: