Joined

Mar 28, 2019
Messages

88
Reaction score

49
Location
Having been a fan of the Warlock for a while and recently getting my L2 I figured it was only right to build the Warlock as my first "bigger" rocket. The main build took me around 18 days, the only thing i'm waiting on is the recovery setup ( using a pilot chute, deployment bag, and tender descender ). It was a breath of fresh air to do a build with so much room in the airframe it really made everything come together smooth. I am still waiting on my main parachute to get here and then I will get a final weight on the rocket.. i'm guessing around 130-140 ounces.
Here is an overview, I decided on the 54mm version for more selection of motors. I used Rocketpoxy for the majority of the build. I built an avbay into the nosecone to house the flight computer(s). I strengthened the airframe with the easyglas sock from Giant Leap, using Aeropoxy laminating resin. Motor retention is handled with an Aeropack 54mm. Using a 24" topflight chute as a pilot chute to pull out a 6 ft disc gap band parachute from Bama Recovery which will be housed in a custom deployment bag I made. For the first flights I plan to let the pilot chute pull the main at apogee to ensure it all works smooth, then after that I will be using the tender descender to tether the pilot chute and act like a drogue until it releases the tether and allows the pilot to pull the main.
On with the build.. I laid out all the parts and did a dry fit of the rocket. Everything was very tight and aligned.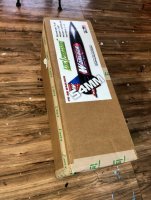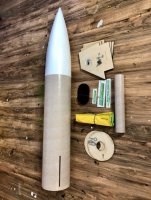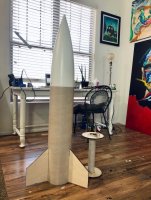 I chopped the base off of the Nosecone and prepped the inside surface for the avbay components. I installed some t-nuts into a 7.6 - 3" centering ring and epoxied it into the NC shoulder. I then made a simple sled and drilled some holes to attach to the bulkhead. I also installed my charge cup and U-bolt. Using 3 screws to hold it into the NC.