Well-Known Member
TRF Supporter
Joined

Nov 14, 2017
Messages

141
Reaction score

164
Location
The
TeleMetrum
by Altus Metrum has a 6.5" quarter wave wire antenna. I heard that I could make it into a center loaded antenna by wrapping the central portion three times around a pencil to add inductance while shortening the overall length. I have flown this way many times.
I am now trying to fit the TeleMetrum into a short rocket so I thought I would measure the signal strength with the antenna in different bendy configurations.
The TeleMetrum is version 2.0. I attached it to a board with markings in the antenna region 1" apart. I stood about 320 feet away, approximately normal to the surface of the board and I measured the signal strength received by a 3 element
Arrow 440-3
hooked up to a
TeleBT 4.0
. I recorded the RSSI signal strength with the 440-3 antenna pointed at the TeleMetrum with the elements vertical and flat.
Here is a picture of test cases 0 through 6: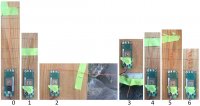 Here is a picture of test cases 7 through 14: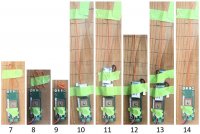 Here is a graph of the RSSI signal strength measured, both antenna vertically and horizontally:
This shows that from the one measurement location 320 feet away, a straight up antenna has the best signal strength and that covering up the bottom of the antenna with a battery doesn't matter much.
Most of the bent cases had a moderate impact on signal and the inductive center loading wasn't much better. The 'jumbled' antenna did have the lowest signal strength.
I'm not sure how bad these configurations are to the TeleMetrum's radio.
I'm aware that there is a 3 dimensional distribution of signal strength with different powers receive in XYZ orientations at each point in the distribution. Receiving the signals at different distances and angular orientations away from the antenna will have different answers. Maybe there is a good antenna design software that could inform about the 3 dimensional distribution.
This give some insight into what happens when the antenna is bent and folded up and twisted up to try to make it fit into a shorter space.