Well-Known Member
TRF Supporter
Joined

Nov 25, 2018
Messages

347
Reaction score

150
Location
I don't have previous experience using small servos. I'm learning and gaining an appreciation of what they can do. I have two major applications. The first is small control surfaces on a HP rocket. The second is servos on a TVC gimbal mount for a low to mid-power rocket, up to 38 mm H-impulse, I hope. For this thread, I would like to focus on servos for TVC gimbals.
So, I have a couple makes of small servos (often referred to as micro servos) for a 29 mm TVC gimbal and I would like some guidance (pun intended) on what I should be looking for on servo specs and maybe tips on the best manufacturers. Actually, if I had a recommended manufacturer that would help a great deal. Eventually, I would like to create a 38 mm TVC gimbal after gaining some experience with the 29 mm mount.
Basically, I see two types of construction for these small servos; plastic and metal gears (photo). These are both 90 degree servos.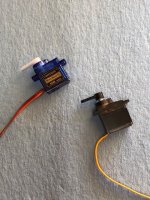 I have two servos (X & Y axis) supplied with a BPS Space Signal R2 kit that are plastic gear type manufactured by Osoyoo, SG90.
I found the following specs for these servos:
Operating Speed: 0.3 sec/60 degrees (voltage not given)
Stall Torque: 1.5 Kg/cm
Voltage: 4.2 to 6 volt
When I check them with a Hiwonder servo tester, they seem a bit "noisy." These are installed in a test stand to check if the TVC mount will be OK using a CTI G33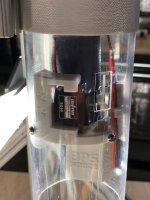 I have another TVC gimbal in a rocket. This gimbal is made with PETG and using TowerPro MG90D, metal geared servos. Using the servo tester, these seem a bit quicker, smoother, and and not so much noise at the center position. Here are the specs:
Operating speed: 0.10 sec/60 degrees (4.8 volts), 0.08 sec/60 degrees (6.6 volts)
Stall Torque: 2.1 Kg/cm (6.6 volts)
Voltage: 4.8 to 6.6. volts.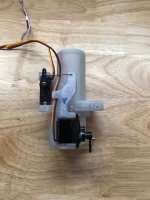 I see many different listings for servos using Amazon and prices vary a lot.
What do you think is best?
Should I be testing these servos in a different way?
I would appreciate your thoughts on this.