Joined

Jan 20, 2009
Messages

3,737
Reaction score

433
Rough day with the Sky Busters, but a good one overall. Tony Fragge and I went to Amherst yesterday to fly in the Great Lakes Regional Meet Revisited Launch (GLRMR XII). Tony is my brother in law, often spoken of, but rarely of late due to his lack of flight time the past few years. Well, the bug bit him again when he stumbled across a stash of old motors he'd forgotten he'd bought. (A bag of North Coast motors from his days in DARS.) We made plans to attend both days of this launch, but a First Communion later today scotched the idea of a two-day launch. We settled for one.
When I arrived on Friday night at Tony's house, we cracked a beer and headed downstairs to check out his flying circus. He had mentioned that he had one rocket that he wanted to fly, but couldn't remember what it was called. It had been a thrift shop find a few years back and was done up in a neon camo paint job. I looked at it for a second, noting the large modroc body tube, the simple, but heavy-duty fins and nose cone, and the mid-body break point. It all looked familiar, as well it should. It was an original FSI Hercules!
It had been flown, but never by Tony. It went with us on Saturday, but we punked out before we had the chance to fly it. Maybe next time.
Tony's first flight was his traditional Estes Solar Warrior on an A3-4T. This was something like the 50th flight for this bird and it did its normally perfect flight. My first flight was the Viking IV upscale on an E9-4. After all, what can go wrong with a previously flown bird, right?
I attached the keychain camera to the bottom of the rocket, looking back toward the exhaust as I had with the camera on the Nova SS a few weeks back. Got it situated on the pad and went to get an on pad pic. No card in my camera.
Some jackass had left the card on top of the computer stack before he left home. I wanted to use my big camera instead of the new little Sony because the burst mode is less limited and the telephoto lens is better. DOH! Anyway, no pics of this flight until the aftermath.
Things started off well. A great launch on the E9-4 with the nominal long burn. At ejection something looked to separate, and the body tube came in ballistic. You couldn't hear the crunch, but you coud feel it when it hit. Seconds later something landed in front of the flight line. It was the motor mount! Something else was drifting by on the way to the cornfield behind us. It was the baffle and nose cone on the parachute! As you may have expected, WTF? was the thought running through my mind at this point.
When the range had cleared, Tony and I went out to see what the damage was like. I lost about 6" of tube from the top of the rocket and the keychain camera had broken loose at impact and slammed into the ground.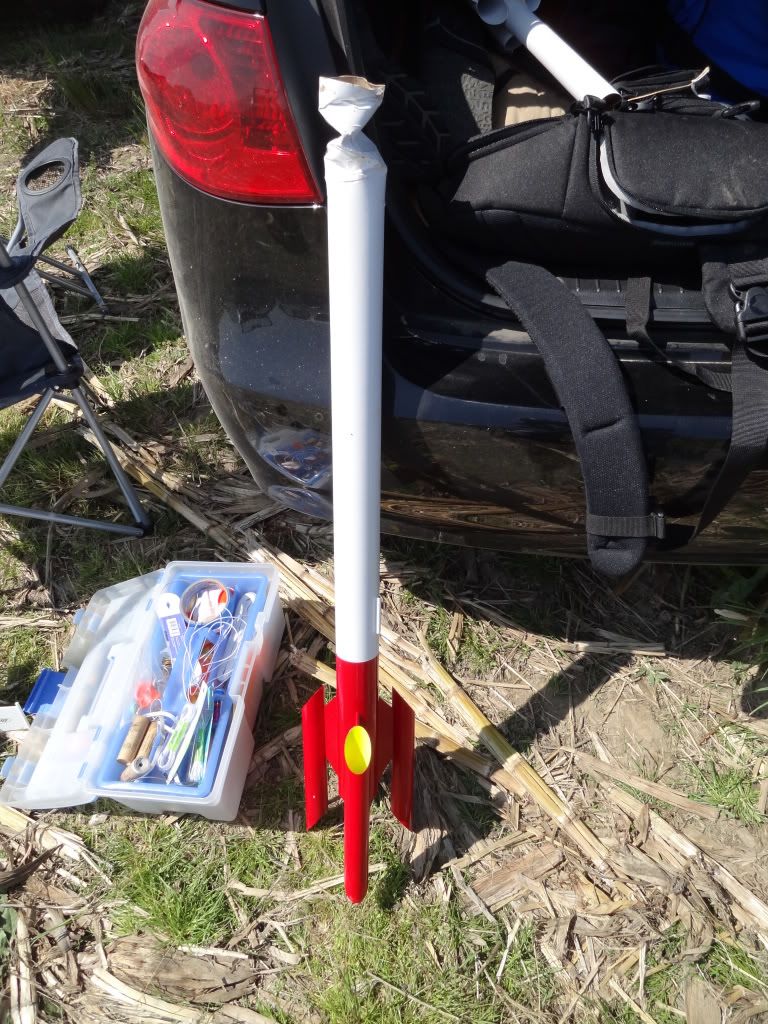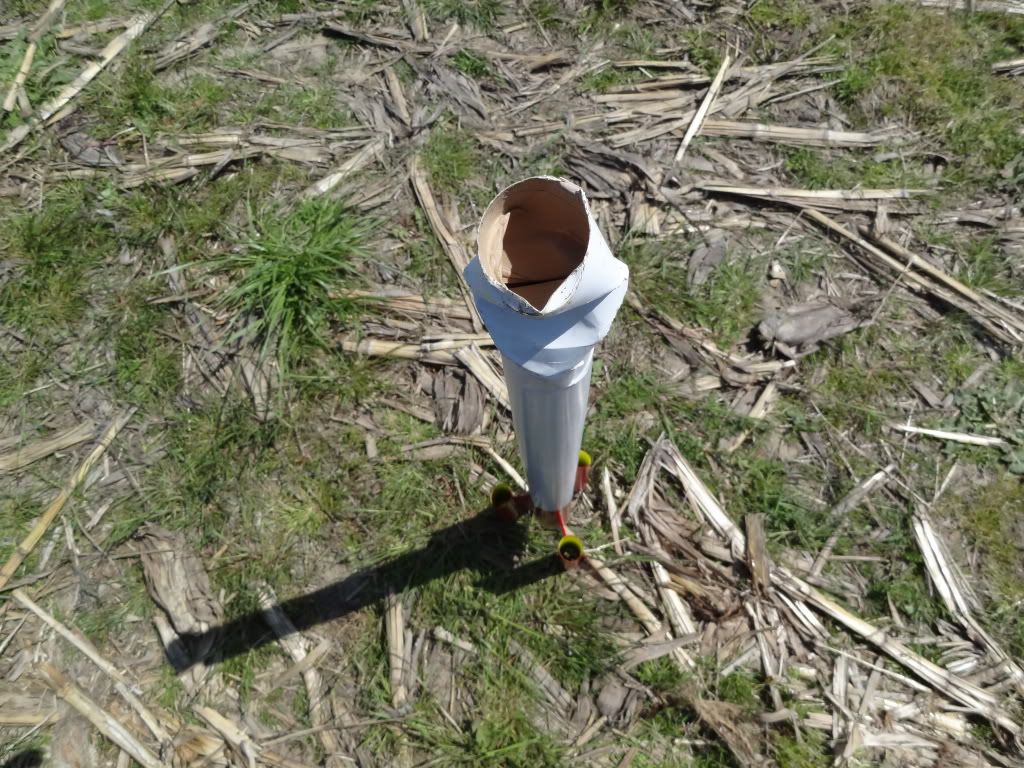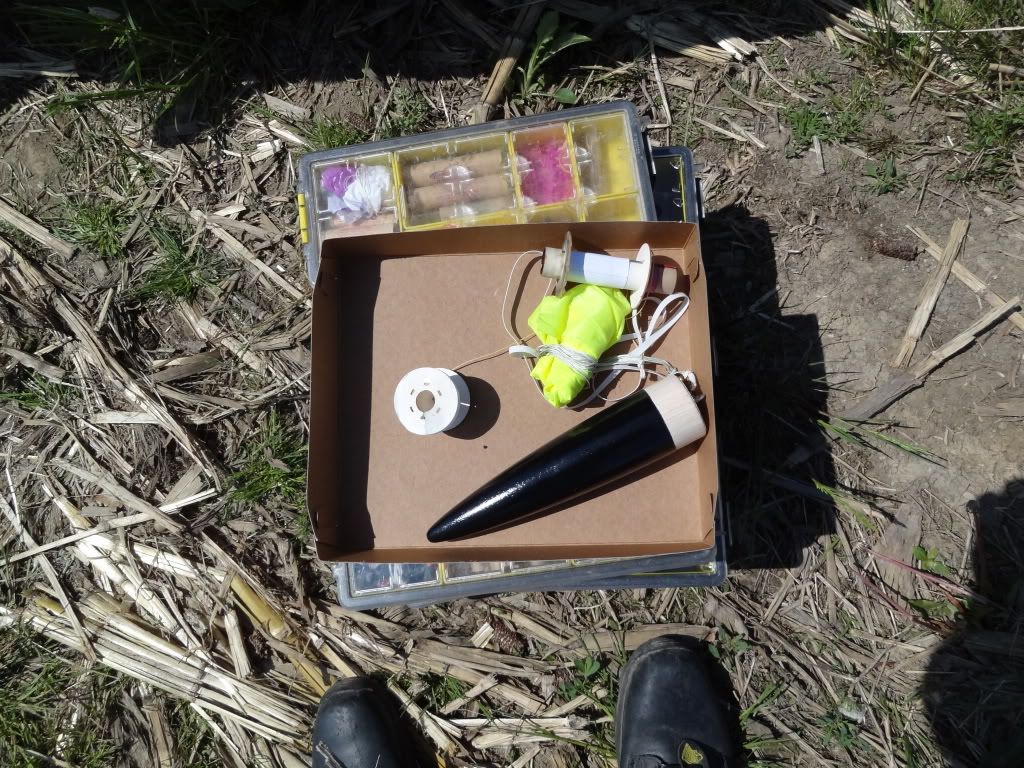 I didn't get a picture of the remains of the keychain camera, but the video survived.
https://youtu.be/ZETHjMoRTuo
This wasn't the first flight for this bird on an E9, and definitely not my first incident with these motors. I'm really beginning to lose faith in them at this point.