In a comment to one of Chris Michielsson's posts on the "Model Rocket Building" blog N Kimura says:
Naoto Kimura
February 24, 2020 at 10:49 AM
"I wonder how many people had toyed with the idea of making a Lockheed D-21 model (perhaps as a parasite glider) to sit atop their SR-71 model?"
Maybe a parasite glider atop the Estes SR-71 or the Apogee SR-72 Darkbird?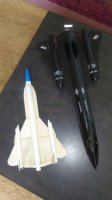 I thought about the plastic drone that comes with the Revell 1/72 SR-71 static kit but I doubt that it would glide. More probably fall like a brick.
Has anyone done a D-21 drone parasite glider? If not I think it would be a cool project.
Unfortunately I have too much on my plate at the moment.
Laters.
Last edited: