Lifetime Supporter
TRF Lifetime Supporter
Joined

May 7, 2017
Messages

1,834
Reaction score

1,909
Location
My South Bend 13x40 lathe is old and has problems so I bought a large "mini lathe" (8.7" x 29.5") to play around with.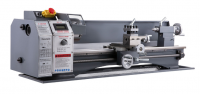 Change gears are metal not plastic, which is nice. No quick-change gearbox so I have to dive in and manually change some gears for threading, which I fully expected.
Here's the threading chart. Does anyone have any earthly idea what "H" is?? (there are no gears labeled "H")
A few unrelated points about this unit, in case anyone's thinking about buying one. The user manual is very thin and provides little useful info (some call this sort of writing "Chinglish"). All graduated dials and the leadscrew are metric. The spindle has a MT#5 and supposedly a 1.50" hole thru; that does NOT mean that 1.50" stock can be fed thru. The internal taper has been ground but the rest of the thru hole is quite rough. No 4-jaw chuck so I bought one separately, and had to drill new mounting holes in the spindle "face", as there are four mounting holes for that chuck but only 3 holes for the included 3-jaw. Weight is under 200 lb so it's not going to be nearly as rigid as a similar size Fox, Grizzly, or other brand of lathe. (I'm going to bolt it to a steel bar to minimize flex.) No threading dial, so threading is tedious: make the first cut, reverse feed without disengaging the half nuts, make next cut, repeat. As you can see from the chart it's rather limited in the English threads it can cut. And the 1.5 hp label is definitely wishful thinking; I doubt it's more than 1/2 hp.
Thanks for any help you can provide on the "H"
Terry