Joined

Jan 31, 2009
Messages

9,344
Reaction score

1,482
Everything New We Just Learned About The 2020 Iranian Missile Attack On U.S. Forces In Iraq
"Nobody should've lived through this," said one survivor as new insights into U.S. intelligence prior to the strikes come to light.
MARCH 1, 2021
"Nobody should've lived through this," said one survivor as new insights into U.S. intelligence prior to the strikes come to light.
www.thedrive.com
The U.S. military has released never-before-seen aerial surveillance footage of Al Asad Air Base in Iraq during the unprecedented Iranian ballistic missile strikes on that facility last year. The annotated video, shot by a drone orbiting overhead at the time, shows six Qiam-1 short-range ballistic missiles hitting the base.

U.S. Central Command (CENTCOM), which is the top command overseeing American military activity in the Middle East, declassified the video and provided it first to CBS News' "60 Minutes" for a segment that aired this past weekend. The missile strikes themselves occurred on Jan. 8, 2020. Afterward, then-U.S. Secretary of Defense Mark Esper said that 11 Qiam-1s had hit Al Asad, in total. Officials in Iraq's northern semi-autonomous Kurdish region also said that at least two short-range ballistic missiles had been fired at Erbil International Airport, which also hosts U.S. forces, one of which failed to reach its target.

U.S. Army Major Alan Johnson, who was at the base during the incident, told "60 Minutes" that intelligence had indicated Iran was preparing to fire as many as 27 missiles at Al Asad. The CBS News' program also reported that a total of 16 missiles were ultimately launched at the base, with five failing to function as intended. Approximately 110 U.S. service members were later diagnosed with traumatic brain injuries, but thankfully there were no fatalities.
-------------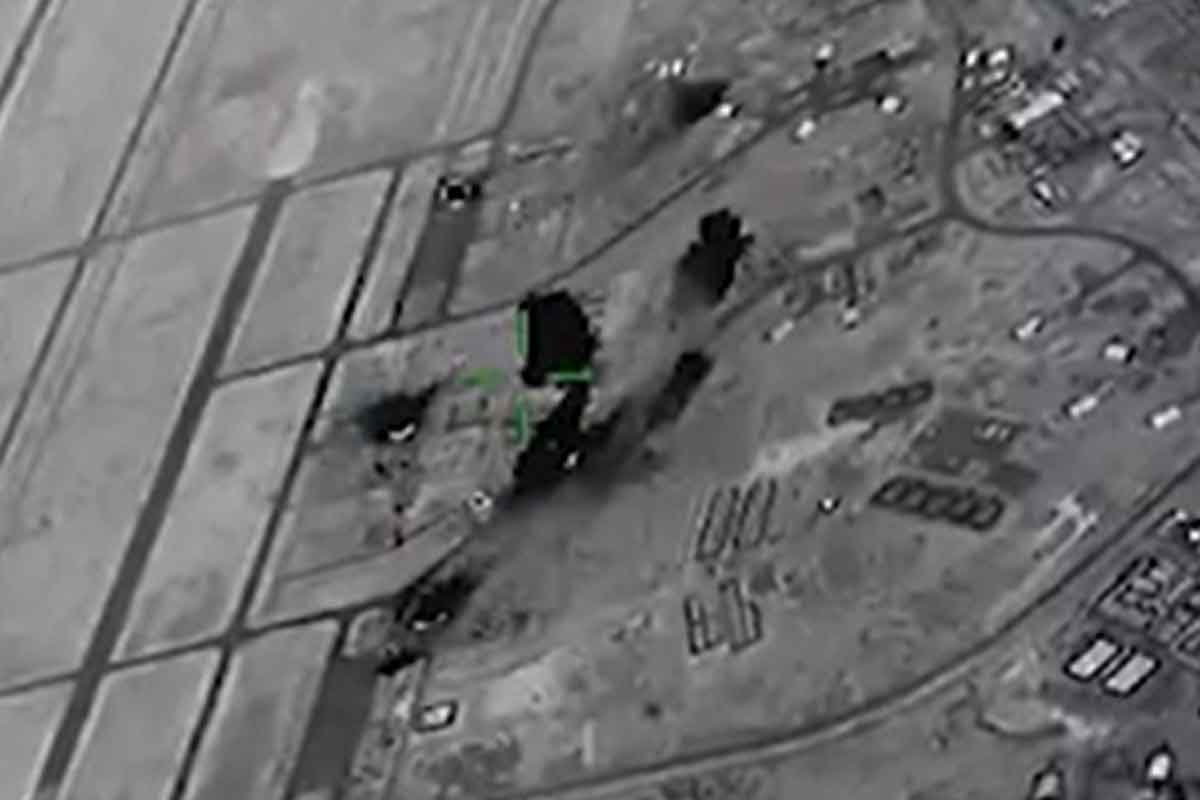 The Defense Department released newly declassified footage of the ballistic missile strikes on Al Asad last year.
www.military.com
No American troops died in the attack, but Marine Gen. Kenneth "Frank" McKenzie told 60 Minutes the U.S. had a plan to retaliate if they had been. He estimates the U.S. was close to losing between 100 and 150 personnel and up to 30 aircraft
[if they hadn't been evacuated before the strike, which they successfully were thanks to our interesting intel capabilities - W].
Officials at first said no one was injured at Al Asad, but more than 100 troops were later diagnosed with traumatic brain injuries and Purple Hearts were approved for more than two dozen. About 2,000 troops there scrambled into bunkers to take cover after receiving warning that an attack was coming.

The bunkers in which Johnson and others were taking shelter were designed to protect troops against warheads weighing about 60 pounds. Each missile launched by Iran carried a warhead weighing more than 1,000 pounds, according to 60 Minutes.
-------------
Drone footage of attack:
The inside story of the Iranian attack on Al Asad Airbase
(great 60 Minutes segment)
60 Minutes contributor David Martin and producer Mary Walsh report on the January 2020 attack on American forces stationed in Iraq.
www.cbsnews.com