Joined

Jul 24, 2020
Messages

26
Reaction score

13
Hi all,
I have an Eggtimer LCD receiver kit. I had it working, but somehow, still not sure how, the battery terminals shorted. Before the short, I measured the power regulators and they were at 5v and 3.3v. Which should be correct. After the short, I noticed that the 3.3v regulator was now measuring 0.5v. I replaced the 3.3v regulator and the associated capacitor, and there was no change. I assume I'm measuring them correctly.
Also, I noticed that the capacitor connection that is next to the power regulator has continuity between the two holes. This seems odd to me, as the other 2 capacitors don't do the same thing. I am not an electrical engineer, and I am very perplexed what's going on.
5 volt regulator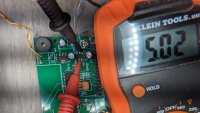 3.3v regulator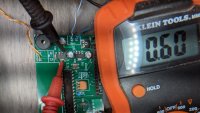 Continuity between holes for capacitor.