Joined

Oct 29, 2020
Messages

10
Reaction score

0
Hi,
I'm making recovery system using two parachutes, the main one and the drogue one. here is my concept :


drogue chute(the one in the middle of rocket) will be deployed using nitrocellulose wich will push the piston out deploying the chute and splitting the rocket in two( body tubes are connected by connector) and thats easy to do, the problem is to connect the nosecone the way that it wont fall out during drogue chute deployment but it will fall out when the main chute will be deployed( main chute is being deployed the same way as a drogue chute using nitrocellulose)
I thought abaut using 3 ring deployment system but im not sure abaut that, its going to be a little bit too complicated to pull the cotter.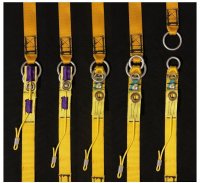 Any ideas how make this dual deployment system ?