Joined

Jan 19, 2009
Messages

1,022
Reaction score

438
A pair of the Der Big Red Max kits hit the workbench in this dojo several weeks ago, an arrival I documented in this unboxing video:
With basic construction completed on both of these kits, the focus has now turned to finishing. As noted in the unboxing video, the German theme strikes me as played out, so I decided to go in a different direction. D-Day invasion stripes have always intrigued me, and masking and painting the little boogers is a good test of my masking and painting skills. With that concept in mind, construction has commenced on two converted Der Big Red Max models.
Model #1 will build on the two-stage Der Bumper Max built and flown years ago, This was a play on the V-2 based Bumper WAC rockets flown 70+ years ago, albeit in a chunky Red Max vibe, and built with the 4" Mega kit. Here's a video:
It used a standard BT-60 Red Max as the sustainer, ignited via a PerfectFlite MiniTimer4 in the nose. Our new D-Day themed two stager will use a similar setup, but the booster will be painted like a C-47 transport. A smaller Red Max-based sustainer will be finished with a CG-4A assault glider vibe.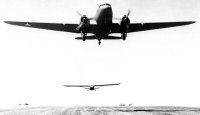 The second DBRM will be finished in a P-51 scheme, also sporting invasion stripes. Here's the paint job chosen as an inspiration.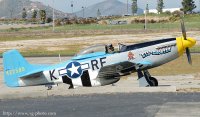 There's a lot going on here: invasion stripes, natural aluminum, sky blue, bright yellow...should be fun!
We'll get started in a moment.
James