Joined

Jan 31, 2009
Messages

8,446
Reaction score

797
On the stock market.
"Buy the F****ing Dip (BTFD), the central banks have your back!"
That has been the montra since the Global Financial Crisis. The current worldwide bubble has been caused by MASSIVE amounts of new DEBT and government deficit spending worldwide and, in Japan for instance, a central bank actually buying STOCKS to artificially prop up their market for years [illegal for our Fed to do that, thank God, but that could be changed overnight]. Ever since the Global Financial Crisis which was also caused by too much leveraged debt, central banks have effectively been "fixing" things in a way one would "cure" an alcoholic by giving him alcohol.
Now, the "Everything Bubble" may have finally met its PIN: COVID-19.
Major BANK economist says the coronavirus market reaction 'boggles the mind'
[only your "modern monetary theory" pea brain, pal - W]
28 Feb 2020
https://www.marketwatch.com/story/m...ion-boggles-the-mind-2020-02-28?mod=home-page
Best comment I found to that column:
"The markets were like a room filled with dynamite and gasoline. Cooked books, extreme valuations, debt, blah, blah, blah.

The trigger was the virus, could have been an oil related thing like another rocket attack with possible open conflict in the Middle East, a bank failure, an accounting scandal, who knows?

But the cause/trigger doesn't matter.

And valuations don't matter till they do."
[Exactly. In a bubble, a stock's price doesn't necessarily reflect its
REAL
value
. - W]
The 'Everything Bubble'
8 Oct 2019
https://seekingalpha.com/article/4294585-everything-bubble-where-to-invest-today
In 2001, we had the dot-com bubble...
In 2007, we had the housing bubble...
Today, we live in the "everything bubble."

Literally every single asset class is historically expensive.

Bonds yield close to nothing after a multi-decade long decline in interest rates. If you account for taxes and inflation, you are losing money by lending it.
This secular bull market in bonds has pushed a lot of investors into equities. As a result, the broader equity market is today priced at 22.3x earnings in a late cycle economy. This is ~30% higher than the average – and history suggests that such lofty valuations result in poor long-term results.

So, Bonds and Stocks are pricey. What about real estate? We can see the same trend here in valuations. More capital than ever before is chasing real estate deals and as a result, cap rates have compressed to historically low levels for most property sectors.

This creates three major problems to investors:

Bonds: Not enough income is earned to meet investor's immediate needs. This is particularly dangerous to large institutions and retirees.

Stocks: With high valuations in a late cycle, risks are very high and investors could suffer significant capital losses from a return to historic valuation multiples.

Real Estate: The returns are not particularly appealing in most traditional sectors (apartments, office, industrial…) – especially given that it is an illiquid asset class.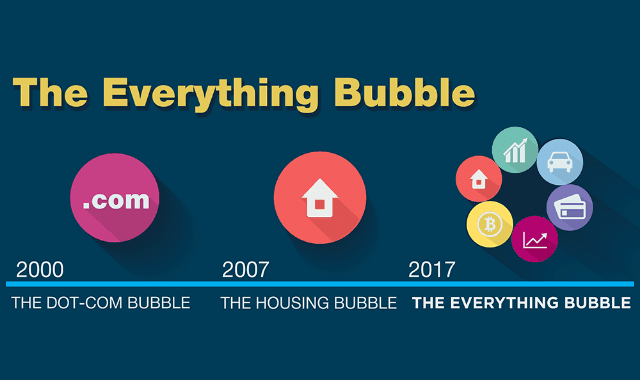 Video from SEVEN YEARS ago showing how the (non)science of economics [even called the "Dismal Science" within the "profession"] is simplistic garbage:
Minsky Introduction Video
Minsky moment
https://en.wikipedia.org/wiki/Minsky_moment
The rapid instability occurs because long periods of steady prosperity and investment gains encourage a diminished perception of overall market risk, which promotes the leveraged risk of investing borrowed money instead of cash. The debt-leveraged financing of speculative investments exposes investors to a potential cash flow crisis, which may begin with a short period of modestly declining asset prices. In the event of a decline, the cash generated by assets is no longer sufficient to pay off the debt used to acquire the assets. Losses on such speculative assets prompt lenders to call in their loans. This rapidly amplifies a small decline into a frank collapse of asset values, related to the degree of leverage in the market. Leveraged investors are also forced to sell less-speculative positions to cover their loans. In severe situations, no buyers bid at prices recently quoted, fearing further declines. This starts a major sell-off, leading to a sudden and precipitous collapse in market-clearing asset prices, a sharp drop in market liquidity, and a severe demand for cash.
Black Swan Here?: DOW Has Fastest 10% Drop In History
From the video in this tweet:
"The Fed is fairly impotent in this environment." "This is possibly the worst thing I've ever seen in my career"
and he's been through the '87 crash and every one since. BOTH a severe supply AND demand shock:
https://twitter.com/BloombergTV/status/1233113560265478144