Joined

Mar 5, 2017
Messages

1,220
Reaction score

176
The impetus for this self-designed scratch built glider project actually started on another thread here:
https://bit.ly/32w0ftD
where my goal was designing and building a traditional glider targeting minimum weight and maximum duration instead of my usual focus on strength and durability.
At the same time I also wanted to design a just-for-fun sport build with the same goals. So I'm doing both, and because I've always had a "thing" for designs like the Valkyrie XB-70, Concord, the Estes Raven BG, etc. I decided to go with a delta planform. There's just something cool about them.
Anyway, because deltas use vortex turbulence to produce lift, I decided on a
*
"cranked arrow" version to maximize lift. What that translated out to was adding strakes to the forward edge of the wings.
*
https://bit.ly/3lyEqBs
My fictitious tongue-in-cheek face card above is my mind-sim of how it'll hopefully turn out. I always wanted to try a built-up wing so this is my chance to give it a shot while removing some weight at the same time.
I drew up my main wing layout below at the same time I was designing the glider on the other thread that's linked at the top.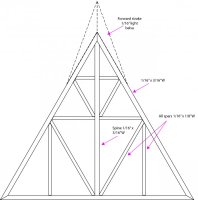 Last edited: