Joined

Mar 5, 2017
Messages

1,212
Reaction score

171
Just picked up 2 of the best building tools I've come across in years and wanted to pass on recommendations that make life so much easier.
If you need a real time-saver that gives you clean cuts, especially through thick balsa, thin ply, launch lugs, etc., you can't beat a Rotary Cutter. Hobby knives limit you to cutting at an angle, whereas a Rotary Cutter lets you use the strength of your entire arm to press down while cutting. It doesn't splinter or crush balsa (would probably work great on fomecore or foam sheets) and a stroke or two is all it takes. Found mine in the fabrics section of Michaels, though I'm sure any craft shop would carry it. They also carry replacement blades.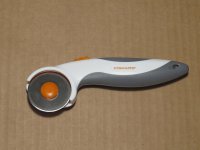 I've used fine tip Cyanoacrylate applicators for years with thin CA, but the drawback to them is that they clog real easy (usually after just one or two uses, and they're virtually impossible to clean) and it's not easy to precisely control how much comes out the tip. I found another type of micro-tip applicator that has a squeeze bulb at the end and it lets you precisely meter out EXACTLY the amount you need. No more accidentally flooding your surface with CA when you squeeze the bottle. Instead you dip the applicator tip into your bottle and draw out some CA where it's stored in the shaft. You can squeeze out REALLY small amounts of CA at a time, less than a drop, and put it right where you need it with unreal precision. I keep a container of acetone nearby and clean out the applicator by sucking up/squeezing out the acetone a few times, and leave the tip to soak for a few minutes. No more clogging problems so I can keep on reusing it instead of tossing it after every use. BSI sells it but I found a whole bunch of choices on Amazon.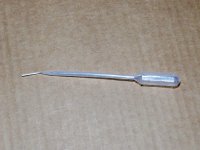 Last edited: