Joined

Jun 13, 2017
Messages

320
Reaction score

43
Hey all, I am selling off these last 2 kits. Both sim files are attached. These are both designed by me and were test fitted to insure perfect fit. Both sims attached. The Delta sim is the mass of mine completed, I have not completed the Having A Blast yet, so no finished weight on that one yet. If you don't have Open Rocket PM me and I will send fin shape in the form of coordinate points. All tubes and nosecones are Madcow fiberglass.
Delta 2.6"
FW FG kit made out of thin wall FG tube, 1/8" beveled G10 fins, and a 5:1 Ogive NC. 38mm Motor Mount. Finished length: 59" when D/D and 58" when S/D
Price: $160 for S/D and $175 D/D. All hardware needed for building is included. I have flown this rocket on a Loki K1127 to Mach 1.1 and 8,800 feet with a 39.6g boost. This thing will take what you throw at it. I will also throw in a cut vinyl decal set for it for free. Vinyl is cut by Stickershock. This is a great kit for an L1 or L2 as it will fly on an a big H up through to a 38mm K. The rear fins are also angled forward a lot so you don't really have to worry about breaking a fin on landing. Fins are in two parts, but super easy to get perfectly aligned. No reinforcement is necessary at the meeting point.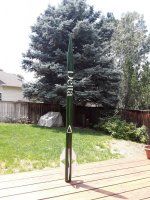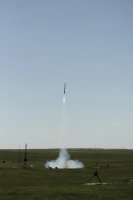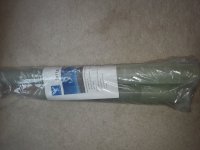 Having A Blast 3":
FW FG kit made out of thin wall FG tube, 1/8" beveled G10 fins, and a 5:1 Ogive NC. 54mm motor mount. Finished length: 63.25". This is a 6 fin rocket. I do not have any finished pictures of mine yet, as I only have some of the fillets done. This is a brand new kit I am selling that comes ready for D/D. I will also toss in the blue cut vinyl decal that reads "Having A Blast" for free. Vinyl is from Stickershock.
Selling for $230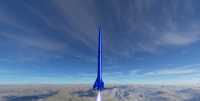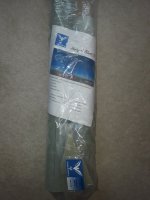 Look in attachments for sim files.